Absolutely Erotic Blog Hop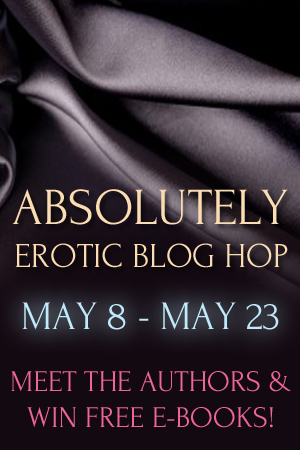 Welcome to a stop on the Absolutely Erotic Blog Hop, where we're showcasing erotica and erotic romance authors from the Absolute Write forums. Each day, interviews will be posted, and when it's all said and done, some lucky commenter will win a huge prize! Click here for the entire blog schedule and details about the contents of the prize, and how to win an armload of ebooks, a $25 Amazon gift card, and more.
Today, I'm hosting Thea Landen.
Nook, Kindle, Kindle Fire, iPad, Smartphone, Kobo, Paperback, or Hardcover? Why?
I have a regular Kindle and a Kindle Fire. I do most of my reading on the former, and I looooove it. I like having millions of books available at the click of a button, and it doesn't take up much space on my already-packed shelves!
How big is your personal library? What genre do you read/collect the most?
I do my best to stay within my budget, so it's not all that huge. I read in just about every genre, but I do love a good mystery. (I always wished I was smart enough to write them!)
What are you reading now?
I haven't started it yet, but Tina Fey's Bossypants is next on my list. I've also been flipping through some free erotic shorts. Research purposes, y'know. *cough*
I love the manga-style character in the header of your blog. Who is she? Are you into manga/anime?
One of my friends did a little doodle of a character named Thea from the old game Phantasy Star III. He cleaned it up for me after I expressed interest in using it (hey, I needed something!). I've thought about changing the header or site design a few times, but I don't like change, so she'll probably stay there for a while.
I'm actually not into manga/anime at all. I've watched a couple episodes of…something with another friend. While it was entertaining enough, I've never felt the urge to seek out more. (I already have too much to read and write and play and….)
You have an artwork section on your blog. Are the images commissions or fanart? How do you feel about fanart of your work?
Two of the more complex pieces were commissions, while the others are fanart. (Mostly from friends, but they did it of their own free will!) I know the topic of fanart and fanfic can cause a heated debate among authors, but I have no problem with it. I wrote fanfic before trying my hand at original works, and I still write some every now and then. If someone is so inspired by the universes and characters I create that it inspires them to create art of their own, I'm certainly not going to tell them not to! I think fanworks strengthen communities and can lead to a more dedicated following. Of course there's the risk of poorly-written improbable situations, but I think there are far more important issues to get all worked up about.
What's the best advice about your writing you've ever received?
I'm a musician, with quite a bit of performance and teaching experience under my belt. We used to have a saying for the younger students when it came to their dynamics, accents, and other markings – if the little old person in the back row can't hear the expressions you're putting in, it doesn't count. Writing is similar, in a way. (Some of this I'm paraphrasing from my editor.) Take out the "almosts", the "seems", the "maybes". Pull out all the stops. Be definitive with what your characters are doing. I'm not saying to exaggerate every little subtle nuance, but I do believe that strong writing has a better chance of connecting with readers.
What's the best advice about writing you can give to others?
Write. Keep writing. Talking about writing is not the same as writing. Asking a million questions on an internet forum is not writing (sorry Absolute Write! I love you anyway!). Creating characters with intricate backstories that go all the way back to their first diaper change is close, but it doesn't count as writing unless they're actually doing something. Then once you've written, read it out loud. If it's difficult to read out loud, it's probably not easy for someone else to read. And lastly, when you share your work with others, if someone gives you constructive criticism, do not be nasty to that person who took the time to read what you wrote. Writing is subjective, and you're never going to please everyone. Might as well accept that as soon as possible!
What genre do you write mostly and what appeals to you most about your genre?
I'm still trying to figure out if I'm an erotica author first and a sci-fi/fantasy author second, or if it's the other way around. (I'm leaning towards the former.) I love erotica because I'm a romantic at heart and would always grow frustrated when, right after the main characters realized their true love, the scene would "fade to black". Sci-fi/fantasy is appealing due to the infinite possibilities. Anything my imagination can come up with is fair game!
Do you have a favorite character out of all the ones you've written?
Ro from Disintegration is probably my favorite. Not only is she an "onion" character – more and more layers are gradually peeled away as the story progresses – but she's got some of my favorite smartass lines.
I know a lot of authors do soundtracks for their books; are you among them, and if so, what songs would you pair with your books?
I was originally going to answer this question with "no, I never choose soundtracks for my books". Despite having a degree in music, I'm one of those people who very rarely listens to music when I write. (Probably because I find myself paying more attention to the music than the words!) Then I remembered how when I was writing the first two sections of The Edge of the Sphere, where our heroes are physically separated and trying to find each other, I had "Rivers and Roads" by The Head and the Heart playing on a loop. The lyrics fit well, and it's a beautiful song all around.
What's the one thing readers can always count on when they pick up a book written by you?
Not only will there be plenty of steamy sex, I always strive to capture the emotional reactions of the characters and integrate the erotic scenes into a compelling plot.
What's the best piece you've written? Why?
I'm still completely enamored with Disintegration, my latest release, and I think it's my best work. It's got some of the hottest sex I've ever written and takes place in the most complex universe I've ever created. There's a lot going on plot-wise besides the sex, but the erotic scenes are so integral to the story, it wouldn't be nearly the same without them (which is what I like to see when I'm reading erotica in my spare time).
Which of your books sells best? Why do you think it's that one?
Disintegration seems to be doing pretty well, though it's still new and shiny, of course. Searching the Skies has done well over time, and I think it's because there's a market for light-hearted reads you can finish in a day or so. (And there's a sequel coming out soon, so that will likely give it a boost!)
What would you tell a reader reluctant to read erotica?
Sex is a part of life, and "mainstream" literature is starting to acknowledge that. There is absolutely nothing wrong or shameful about reading graphic descriptions of sex; there is also no law stating that you have to advertise everything you read to your friends and family.
You can find Thea and her books on twitter, facebook, and at her website. Go check her stuff out!
Thank you for visiting this stop on the Absolutely Erotic Blog Hop! Please be sure to visit Thea's blog tomorrow to read an interview with Charlie Descoteaux, and comment for more chances to win the grand prize!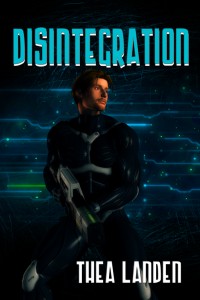 Dutiful soldier Callum Renwick wakes up in the underground laboratory of a mercenary organization. He learns he was the sole survivor of an attack that destroyed his unit, his hometown, and his family. In addition to the loss of his loved ones, he discovers that due to his injuries, half his body has been supplanted by artificial skin and cybernetic parts. Once he has recovered, he is assigned to the care of Ro Bernard, who leads the effort to turn him into a powerful assassin. She is outspoken, yet secretive, and uses unconventional means to mold him into a depraved killer. Mind games and rough sex are in her repertoire of training tactics, and Callum is both infuriated and fascinated by her. As he comes to terms with his grief and his new role, many of his biological body parts fail and must be replaced. Will he adapt to survive in Ro's world and exact vengeance on the woman who ordered the attack that changed his life?
Thea Landen lives in New York with her husband and a variety of houseplants. A former educator, she strives to encourage creativity and passion in all those around her, and uses writing to help inspire. Though she reads and writes in nearly all genres, she has a special fondness for science fiction and fantasy and anything that pushes the imagination beyond its usual limits. When she's not writing, or thinking about writing, her hands and mind are occupied by either yarn crafts or role-playing games.