Dead Tree copy of Wicked Fairy Tales available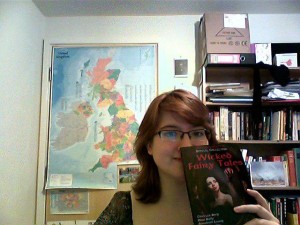 I got my dead tree copy of Wicked Fairy Tales! I love ebooks, but it's still fun to have something solid in your hands. No fair guessing how long it took me to figure out how to take a photo with the webcam!
Behind me is our spare room / office. I've blutacked 'useful' things all over the place, hence the map on the door. This is actually in a fairly tidy state, but that's mainly because you can't see my desk.