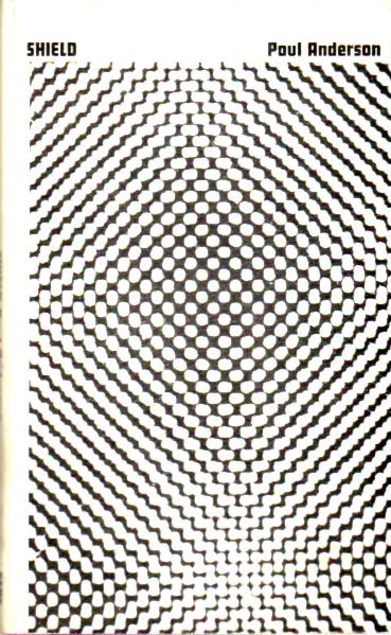 Shield
Fiction
Berkley Publishing Group
1982
201

Koskinen had returned to earth with a strange new "Shield" - a device which enclosed the wearer in a force shield which absorbed all energies below a certain level. Light could come through the Shield, but no weapon known to man could penetrate it.
Koskinen had developed the Shield in collaboration with the Martians. From the moment of his return to earth he was in deadly danger. His own country sent men to kill him to prevent the Shield from falling into enemy hands.
Soon the whole civilised world was searching for this one man - a man armed with the greatest potential military weapon mankind had ever seen the only question was which power would possess the Shield as its very own?
I was really impressed with this book. It has everything in perfect measure – action, politics, romance, science – and the characterisation is superb. An intelligent, strong-willed, motivated woman who isn't an emotional deadzone? Written in the 60s? (it's more likely than you think!). Characters had their own motivations and goals that intersected, and I would love to read about some of the others that crossed paths with the protagonists – the Polish insurrectionist, the crime boss, the martians. It's a really rich world.
This is exactly what good sci fi should be. Likeable characters, complex worldbuilding, tight pacing and rational plotting. I would love to see this adapted for film or tv, or even radio. Anything to bring it to a wider audience.